22 April–21 May 2023
Showroom Studio Aatifi, Ravensberger Straße 47, Bielefeld, Germany
Opening: Sat., 22/Sun., 23 April 2023, 12–6 p.m.
Aesthetics, intense colouring and vivid lines unite all of Aatifi's works. Mysterious shapes and lines and often expansive compositions characterise the abstract-scriptural works on canvas and paper, including untitled paintings from the recent past or ink drawings in bright violet and pink gradations with expressive elements from the new 2023 series Verve. In the bright, approximately 90-square-metre showroom on the ground floor of the rear building, current and recent works are displayed in small, medium and large formats. The way the exhibition is presented and Aatifi's unique, characteristic pictorial language, in which the forms and lines seem to move beyond the edge of the picture and connect with each other, create a special arc of tension.
---
18 September-17 October 2021
Showroom Studio Aatifi, Ravensberger Straße 47, Bielefeld, Germany
Opening: Sat., 18 September 2021, 6 p.m.-1 a.m. (Bielefelder Nachtansichten)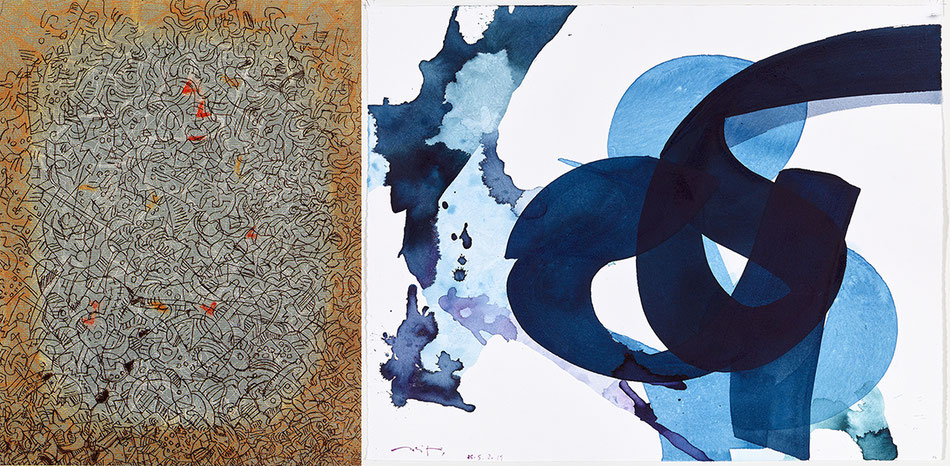 Juxtaposition: ink drawings by Aatifi such as 'Verve 24' (right) and graphics by Mark Tobey such as 'To Life' (left).
Repros: H. Hachmeister (left) and Wolfgang Holm (right)
One is considered a pioneer of abstract expressionism in the USA, the other has developed his own abstract-scriptural formal language. In the exhibition Abstract - Aatifi and Mark Tobey, the works of both artists come into contact with each other: Works on canvas and paper by Aatifi are juxtaposed with prints by Mark Tobey.
Calligraphy-like brushstrokes by Tobey correspond with dynamic shapes and lines by Aatifi, 'White Writings' with scriptural abstraction, colour etching and serigraphy with acrylic on canvas and ink drawing. Around 30 paintings and works on paper are juxtaposed in the current exhibition - works from 2020 and 2021 by Aatifi and a series of prints by Mark Tobey (1890-1976). The Afghan-German artist, who has worked nationwide and internationally from his Bielefeld studio for two decades, presents works by the US artist, who worked from Basel, Switzerland, from 1960 until the end of his life. Tobey, who studied calligraphy and painting in Japan, developed his 'White Writing' style around 1935; in 1958 he took part in the Venice Biennale, and in 1962-63 he received a retrospective at the Museum of Modern Art New York.
---
12 April-12 May 2019
Showroom Studio Aatifi, Ravensberger Straße 47, Bielefeld, Germany
Opening: Fri., 12 April 2019, 6-9 p.m.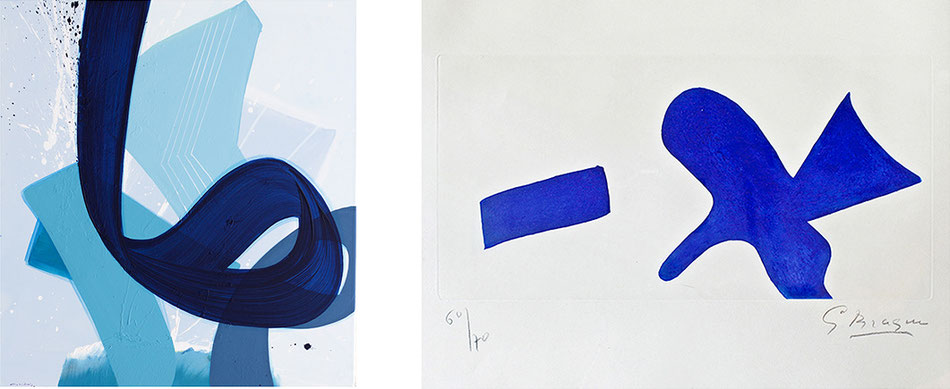 Verve 13  I  120 x 110 cm  I  acrylic on canvas  I  Aatifi 2019 (left)
Everyday Magic  I  19 x 38.5 cm  I  colour etching  I  Georges Braque 1959/68 (right; Repro: Kunsthandel Müller-Held)
Paintings and ink drawings by Aatifi from 2018 and 2019 are presented, and one room is dedicated to colour etchings and lithographs by the artist Georges Braque.
In Aatifi's work, the colour blue stands for Afghanistan's high-quality lapis lazuli deposits. Blue and white characterise the paintings of the Bielefeld artist from the 'Verve' series of 2018 and 2019. The pictorial compositions with reduced forms, sweeping lines and excessive splashes unfold an expansive effect. On display are over 30 works, alongside in addition to paintings in various formats, powerful, luminous ink drawings and abstract figurative graphics.
One room in the exhibition is dedicated to Georges Braque (1882-1963). Works on paper from the 1950s and 1960s are on display: Colour etchings from the series 'La Magie quotidienne' ('Everyday Magic') and 'Poissons' ('Fishes') as well as the lithographs 'Profil grec' I and II ('Greek Profile' I and II). Throughout his life, Braque was on the lookout for truthfulness and perfection in reduced expression.